Obi Mikel : Nigeria Could Win The World Cup
Published: June 10, 2014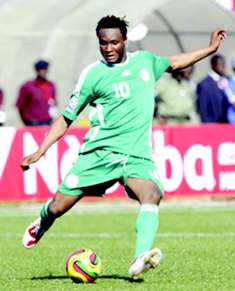 Chelsea midfielder John Obi Mikel reckons that the Super Eagles will live up to their billing as African champions at the World Cup.
The last time Nigeria qualified for the last 16 was 16 years ago, and including that game against Denmark, they have gone 7 matches without a victory.
"Hopefully, we can see an African team getting to the semifinals or the final of this World Cup. It may take time.
"Yes, Nigeria could just win the World Cup because in football, anything can happen," Mikel told FIFA TV.
The Inter Milan target added : "Anyone that knows him (Keshi) knows how much he demands from his players. He always wants you to work 110 per cent everyday in training and in games.
"He never wants you to stop so, I think we've responded well to his demand. We've imbibed that and every player is enjoying the challenge.
"I can only see a bright future for the national team with Stephen Keshi in charge."
The squad will depart the United States for Brazil, venue of the tournament, on Tuesday.