Vincent Enyeama Believes It Is Time For Africa To Win World Cup
Published: June 10, 2014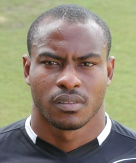 Lille numero uno Vincent Enyeama has opined that African teams participating at the World Cup will pull their weight in Brazil.
And he has picked Nigeria, Ivory Coast and Ghana as the main flag-bearers that will represent the dark continent creditably.
Speaking to reporters, the deputy Super Eagles skipper said : ""It (an African side winning the World Cup) can happen. It can happen. Nigeria has a good team; Ghana has a great team. Cote d'Ivoire has a great, amazing team.
"I believe an African team can win the World Cup. It can happen. I don't believe in negativity. I am a very positive person so, I believe it can happen in Brazil."
In the past, Ghana and Cameroon have both qualified for the quarter-finals of the showpiece event as well as Senegal in 2002.