Chelsea Winger Victor Moses Reckons Nigeria Football On The Rise
Published: June 14, 2014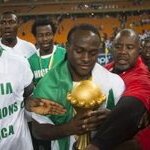 Ahead of the game with Iran on Monday, Chelsea loanee Victor Moses believes Nigeria will continue its ascendency as one of the top football nations by doing well at the World Cup.
In 2013, the Super Eagles lifted the African Cup of Nations while the Golden Eaglets won the Fifa Under 17 World Cup held in United Arab Emirates.
"Things are going in the right direction for us at the moment. The younger lads won the under-17 World Cup and we won the Africa Nations last year.
"So if we can bring the same determination that we did in the Africa Nations into this World Cup it will be very good for us, " Moses told the
AFP
.
Nigeria will depart Campinas for Curitiba early Saturday afternoon after taking a rest in the morning.