Ikechukwu Uche Happy To Score For Villarreal In Win Versus Red Bull Salzburg
Published: February 20, 2015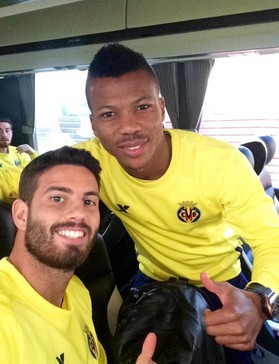 Ikechukwu Uche was pleased to score for Villarreal in their hard fought 2 - 1 win over Red Bull Salzburg in the first leg of the Europa League round of 32 on Thursday night.
But Uche, who netted the first goal for the Yellow Submarine, has acknowledged that the team must work hard in their bid to qualify for the next round as a result of the slim win.
"Happy to have helped the team!Next game will be even harder than tonight. Thank you fans for your support!" said Ikechukwu Uche.
The Villarreal number 8 played his first game for the club since February 7 after recovering from a minor knee injury.
The second leg comes up next Thursday in Austria, starting from 19:00 hours.
Photo Credit : Twitter.com/ikeuche9