Shenzhen Newcomer Obasi : I Was Born In Africa, Hot Weather Means Nothing
Published: February 17, 2017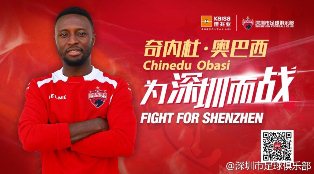 New Shenzhen striker Chinedu Obasi has emphasized that he will not be affected by the climate change in the summer because he was born in Nigeria.
The former Lyn Oslo and Hoffenheim star has opined that the Chinese winter is mild compared to what he experienced in Europe over the years.
"This is winter? This is simply spring, too comfortable. Do not forget that I was born in Africa. Hot, for me nothing,
" Obasi told reporters.


"

The weather is not a big problem, other aspects will not be a problem, as a professional player, everything is necessary to adapt.
"
Obasi, who has signed a two-year contract with Shenzhen, started training with his new teammates on Tuesday, and is part of the squad that traveled to Dubai for a training camp ahead of the new season.
Igho Kingsley