Nigeria's Highest Paid Footballer : My High School Sweetheart Dumped Me Because I Was Poor
Published: June 19, 2017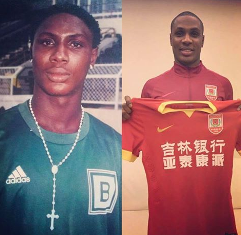 Former Watford striker Odion Ighalo has shared an inspirational message, revealing that his girlfriend in secondary school dumped him because he did not have enough money to take care of her needs.
The Changchun Yatai F.C frontman's circumstances have changed as he is presently Nigeria's highest paid sportsman, with wages of €12.1 million per season.
''From Ajegunle to the world, I serve a living God, this is me 11 years ago. Those earrings are not earrings, I could not even afford to buy earrings that is tape, plasta,'' Ighalo said on social media.
''I am a testimony, I knew with God everything is possible, I was just holding on to my God, my high school girlfriend left me then because I had nothing to offer her.
''But I had God and I had a dream. Never give up on your Dream,the same God that elevated me shall elevate you , hold on to him and trust his timing. I am a testimony, you are a testimony, put God first and it's all done Amen.''
Odion Ighalo got married seven years ago to Italian-Nigerian Sonia and the couple have three children together.
Ifeanyi Emmanuel