Zambia Name 20-Player Roster For World Cup Qualifier Against Nigeria
Published: September 21, 2017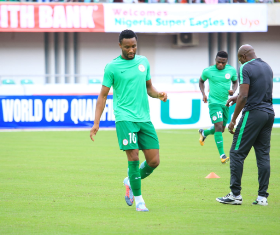 Zambia coach Wedson Nyirenda has announced a 20-player provisional roster for a training camp ahead of next month's World Cup qualifier against Nigeria.
Zambia Under17 international Lameck Banda has been handed a maiden call-up thanks to his impressive display at the 2017 Cosafa Youth Championship in Mauritius.
An analysis of the roster revealed that Zanaco, Power Dynamos, Zesco United and Nkana have contributed four players each, Red Arrows two, while Green Buffaloes and Nkwazi are represented by Adrian Chama and Banda respectively.
The squad contains 2 goalkeepers, 8 defenders, 6 midfielders and 4 attackers.
The domestic based players will begin training for the showdown against Nigeria on Monday, September 25.
Zambia Squad
Goalkeepers (2): Toaster Nsabata (Zanaco), Kelvin Malunga (Nkana),
Defenders (8): Simon Silwimba, Fackson Kapumbu (Zesco United), Ziyo Tembo (Zanaco), Donashano Malama, Boston Muchindu, Moses Nyondo (Nkana), Adrian Chama (Green Buffaloes), Isaac Shamushopa (Power Dynamos).
Midfielders (6): Godfrey Ngwenya (Power Dynamos), Kondwani Mtonga, John Ching'andu (Zesco United), Ernest Mbewe, Augustine Mulenga (Zanaco), Webster Mulenga (Red Arrows).
Strikers (4): Martin Phiri, Alex Ng'onga (Power Dynamos), Lubinda Mundia (Red Arrows), Lameck Banda (Nkwazi).
Igho Kingsley