Fifa Will Fine Zambia If They Appeal Disallowed Goal Vs Nigeria
Published: October 11, 2017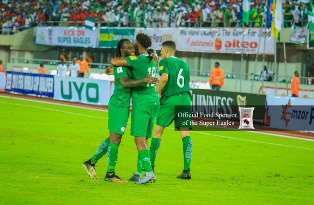 The Football Association of Zambia (FAZ) have reiterated that they will not file an appeal to Fifa over Augustine Mulenga's disallowed goal during Saturday's 2018 Russia World Cup qualifier against Nigeria despite the demands by the Chipolopolo fans to protest the decision of Botswana referee
Joshua Bondo.

Based on television replays, the goal scored by
Mulenga was legitimate but the Zambian Federation can't seek justice because the referee's decision is final except it can be proved that he was manipulated by Associations or betting companies, which is not the case.
Regulations pertaining to 2018 FIFA World Cup Russia state : ''Protests against any incidents that occur during the course of a match shall  be made to the referee by the team captain immediately after the disputed  incident and before play has resumed, in the presence of the captain of the  opposing team.
''The protest shall be confirmed in writing to the FIFA match  commissioner or FIFA general coordinator by the head of the team delegation  no later than two hours after the match.
''No protests may be made about the referee's decisions regarding facts  connected with play.  Such decisions are final and not subject to appeal, unless otherwise stipulated in the FIFA Disciplinary Code.7.
''
If an unfounded or irresponsible protest is lodged, the FIFA Disciplinary Committee may impose a fine
. ''
Ifeanyi Emmanuel