Boy Is A Bit Special : Exclusive Interview With Philadelphia Union Midfielder Amobi Okugo
Published: October 16, 2013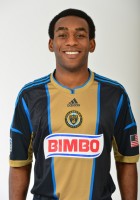 In this interview, Philadelphia Union ace and USA youth - teamer Amobi Okugo answers questions from
allnigeriasoccer.com
's Editorial Staff on his career and the possibility of representing the Super Eagles in future.
Name
: Amobi Okugo
Date of Birth
: 13th March, 1991
Place of Birth
: Hayward, California
Positions Played
: Midfield/Defense
Height
: 6 Ft
Weight
: 180
Describe yourself in five words.
...
Amobi Okugo
: "Humble,hardworking, loyal, intelligent and athletic."
Your favorite subjects in high school were.....Amobi Okugo
: "Sociology, Economics and most of the Mathematics courses."
Favorite Nigerian food?Amobi Okugo
: "Fufu and Ogbono or Egusi Soup."
When did you start playing soccer and did your parents encourage you at the beginning?Amobi Okugo
: "I started playing soccer when I was three years old. My dad use to take me to the park and have me do various drills.
"My parents encouraged me to play soccer because all of my family members were involved with soccer."

Playing at the park when you were much younger, which player did you model your game after?Amobi Okugo
: "Austin Jay - Jay Okocha and Sunday Oliseh."
You started your career as a midfielder. What made the coaches convert you to a defender and what is your preferred position?Amobi Okugo
: "The coaches felt my abilities on the field would help the team as a defender. My preferred position is midfielder
because I've played there all my life but center back is very fun."
Playing for the USA youth teams must mean a lot to you? How did you celebrate your first call-up?Amobi Okugo
:"Yes, I've been part of the USA youth teams all through out my career from Under 14 to the Olympic Team.
"When I received my first invite, I celebrated with my family with a quiet dinner."
Have you ever been contacted by the Nigeria Federation to represent any of the National Teams and would you consider wearing the green and white jersey?Amobi Okugo
:"No I've never been contacted by the Nigeria Federation. It would be an honor to be recognized from the country of your bloodline.
"If I was contacted then I would have to consider it but that hasn't yet happened."
Which Nigerian footballer do you think has made the biggest impact in MLS in the last three years?Amobi Okugo
:"Emmanuel Ekpo has probably made the biggest impact, they're aren't a lot of Nigerians in the MLS.
"He played for Columbus Crew and showed that he was capable of earning call ups while playing in MLS."
What is the highlight of your career so far? Amobi Okugo
: "My debut against Seattle Sounders , it was my first professional game."
Lowlight?Amobi Okugo
: "Failing to qualify for u-20 world cup tournament. We lost to Guatemala in Guatemala in the qualifier."

If Nigeria meets Team USA at the 2014 World Cup, who would you support?Amobi Okugo
: "I would be in a win-win situation and just hope for a great soccer game."

Which Nigeria international has impressed you most in the last five years, and why are you picking him?Amobi Okugo
: "John Obi Mikel has impressed me the most and not just because he's the most popular player.
"He's adapted very well at Chelsea and has become a proven winner. I'm really glad he's moving back to his attacking mid position for Nigeria where he excelled for the Under 20 Nigeria team."

What do you think are the differences between American soccer and African football?Amobi Okugo
:"I feel like African football players are more hungry when it comes to football. They know at a young age the sacrifices it takes to become a professional soccer player."
Chelsea, Manchester United, Liverpool or Arsenal. Which of these clubs do you support?Amobi Okugo
: Chelsea
Thanks for your time, Amobi.
Amobi Okugo
: "The pleasure was mine."
Photo Credit : philadelphiaunion.com